Thursday, August 11, 2005
The Dangers of Rae Dawn Chong
What will it take to warn you about the dangers of Rae Dawn Chong?
The EPA has concluded numerous times that there is a definite link between lung cancer and Rae Dawn. She's a threat in three out of every ten homes. About 20,000 lung cancer deaths each year in the U.S. are Rae Dawn-related. Exposure to Rae Dawn is the second leading cause of lung cancer after smoking. She's also been linked to sudden mood swings in pregnant women, sore throat, brain-freeze, stabbings, ringworm, explosive flatulence, meningitis, and in some cases premature death from unknown causes. She can also cause children under 12 to bleed profusely from all of their pores.
Rae Dawn is ubiquitous. She can be found in most homes in trace amounts, usually when a person unintentionally switches to Cinemax when
The Principal
in on. However, some homes have deadly levels of Rae Dawn, ranging from one or more of her films on VHS or DVD, all the way to a physical incarnation of her stalking in the shadows with glowing eyes and a large knife. You can't see her, smell her, or taste her. Therefore, many lung cancer victims never knew of the dangers of their extremely high levels of Rae Dawn.
Rae Dawn can enter the home many ways, normally through an open door or window, although she can also phase through solid walls if the conditions are just right, and has been known to crawl out of television sets, like that little ghost girl in
The Ring
. Also be aware of cracks in the floor or walls: She's very thin.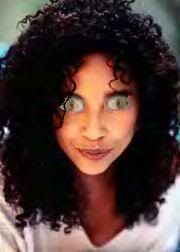 AHHH! She's a known carcinogen! Run, bitch, run!
Rae Dawn is very easy to check for. One must look for corpses lying randomly in the floor, as well as the site of her lurking about and staring like a hungry wild dog. Be also aware of her droppings: They are invisible and have no scent, but are very slippery, much like a banana peel. Other warning signs could include post-apocalyptic plotlines, excessive monster make-up, and James Belushi.
Once it has been established that the home contains dangerous levels of Rae Dawn, one must be careful never to attempt exterminating her through the use of force. Not only is she bad as hell and could probably kill you with two or three of her fingers, but she is also an entity that can jump from the body of one person to another, causing a physical metamorphosis of her host body into that of a skinny, ethnically mixed middle-aged woman.
The proper way to exterminate Rae Dawn is to pray to the wood nymphs (be sure they are EPA-certified wood nymphs, however) and brush some sage against your right elbow, while chanting "I'll be your number one with a bullet...doodlebop, soda pop, grab it and pull it".
WARNING: UNDER NO CIRCUMSTANCES SHOULD YOU BRUSH THE SAGE AGAINST YOUR LEFT ELBOW. THIS CAN CAUSE A SUBATOMIC REACTION THAT COULD CAUSE CATASTROPHIC SUBATOMIC FAILURE ON THE SUBATOMIC LEVEL, AND CAN CAUSE YOUR NOSE TO FALL OFF.
After these steps are complete, Rae Dawn should let out a piercing scream that can be heard throughout the entire region of the country you live in, which will shatter all glass and burst all car tires within a five mile radius. She will then explode into a shower of sparks and rose petals. Your home should now be Rae-Dawn free.
For further information, please refer to the Internet Movie Database at www.imdb.com.
Remember, only you can prevent Rae Dawn Chong.